Eczema Cure Terms and Conditions
Eczema Cure Terms and Conditions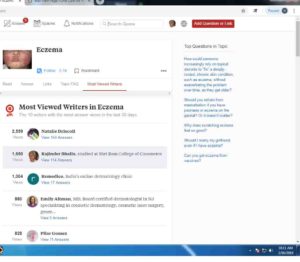 I have been on number 1 or number 2 as most viewed writer on the subject Eczema for most of the time during last 2 year or more. A screen shot showing most viewed writers is taken today on 10.02.2019.
A number of Quora members call me and seek my personal indulgence.
The fee for Consultation and personal time is Rs. 100/-.  Besides fee you will need to refer this program to 2 or more persons after you get cured. You may pay the fee by Paytm at 9971730965. Send the screen shot of payment before calling.
I am on Quora as the most viewed writer On Eczema as well as other diseases including Diabetes and Blood Pressure.
Since I am on Quora (my Quora id is – rajinder.bhalla@gmail.com) and you can report or comment on any of any answers if you do not get satisfactory results and seek refund of your money.
My youtube channel is "Rajinder Bhalla". I recently renamed my  youtube channel as "One Cure for All Diseases".
The latest feedback (mobile recording) of Eczema patient is at – https://www.youtube.com/playlist?list=PLEOusUaDJXw5BmC2xJ0InU1558uiCvEJO
Other mobile recordings of eczema patients can be found at – https://www.youtube.com/playlist?list=PLEOusUaDJXw6n-0kg6EkqwP3WvR9PEgc2
For my youtube channel click here
Subscribe my channel for regular updates and patient feedback. Like my videos and share them. That will help lot of people to benefit.
I can be reached at +91-9971730965. Give a missed call or whatsapp message. I will get in touch as soon as possible. My email if is – rajinder.bhalla111@gmail.com
Disclaimer – Let it be clear that I am not a formally trained doctor. I have not studied any medicine system, nutrition based science or things like that. My suggestions are based on my personal experiences and experiences shared by my patients. I have spent significant part of my time in last 15 years studying various health conditions on internet.